Club Information
The Wings Flying Club is a non-profit organization registered with the State of Kentucky.
The purpose of the Club is to further the advancement and improvement of aviation and aeronautical skills of its members through the more efficient use of resources available for such purposes and to provide its members with aircraft for their personal transportation and recreation.
Club Location
The Club is located at the East T's Hangars (Hangar #328) at Bowman Field (KLOU). The East T's are located at the end of Gast Blvd to the right.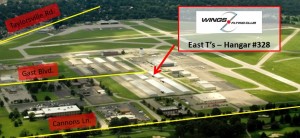 Click Here for a link to Google Maps
Club Officers
Club officers are elected for a one year term. Officer positions are open to all current members
Club By-Laws
The By-Laws are available here: Club By-laws
Rules & Regulations
The Rules & Regulations are available here: Rules & Regulations
Financial Status
The club is in good financial status. We have established and fully funded reserve accounts for the annual maintenance and future engine overhaul.
Insurance
Insurance is provided by Avemco. The policy covers the value of the aircraft and liability coverage of $1,000,000. The policy has a $200 deductible.
Become a member today! Click here for Membership Information